WORRIED ABOUT DEBT?
Posted on: Jan. 07, 2017 in Debt
Are you worried about debt? For many, finances and debt are difficult to talk about. People feel overwhelmed, ashamed, and worried. Debt can lead to stress, anxiety, and depression. You may feel like there's no way out and the situation is hopeless. You may want to tackle the problem but not know how. Here are some things to keep in mind if you're struggling with debt.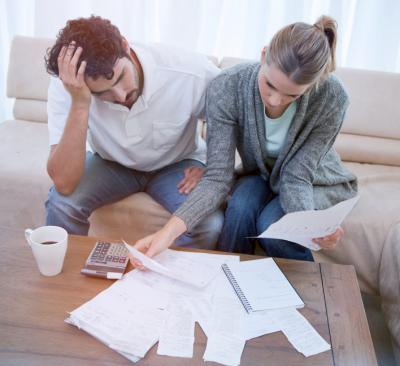 First, understand and accept that your debt is no longer within your control. It may have started that way, but if you're missing or late with payments, or if you're just barely getting by, it's time for a change. Once you acknowledge the problem, you can work toward fixing it. Also accept that more than half of American households are in debt. You are not alone.
If you have a partner, be sure to talk to them about your debt situation. This maybe something you need to work on together, so it's important to open the lines of communication. If this isn't a shared debt, just being honest with someone and feeling heard about your fears can go a long way.
Next, get all the facts about your debt. Make a list of what you owe and to whom, the associated interest rates, minimum monthly payments, and due dates. It can be hard to look at those numbers all together on one page, but it's the only way to really know the scope of the problem. It's also the only way you can begin to unravel it.
You'll also need to see if you bring in enough money to make the minimum payments. If you just need to cut your spending to start paying off your debt, do so. If you cannot make your minimum payments, speak to your creditors and let them know your situation. They may be able to work with you to find a solution.
Taking action on your debts will help to build your confidence and make you feel more in control. Use this forward momentum to tackle your smallest debts first. The sense of accomplishment will continue to push you when your resolve to get out of debt starts to waver.
As you work toward eliminating debt, be sure to take time for yourself and your own well-being. Find ways to enjoy yourself that don't involve spending money. Eat well, rest, and exercise. Not only will this help your mindset, it will also reduce your chances of getting sick. Look for ways to reduce spending and increase income. Make positive changes and build good money habits.
Reducing debt and changing the habits that got you into debt are challenges that can be overcome.
If you need auto financing but your credit is keeping you from getting approved, CreditYes can help! We can match you with a dealership in your area that will be with you every step of the way. Our service is fast and free. Fill out our secure online application and get behind the wheel of your next car today!