WINDSHIELD REPAIR OR REPLACEMENT?
Posted on: Feb. 04, 2017 in Safety, Cars, Auto Maintenance, Auto Insurance

Driving down a highway is a prime time for getting cracks in your windshield. Why? Well, debris that gets kicked up from the road by another vehicle's tires can meet your vehicle with a force much greater than if your car wasn't moving. But when your car is moving and your windshield collides with that rock or other object, it's a recipe for disaster.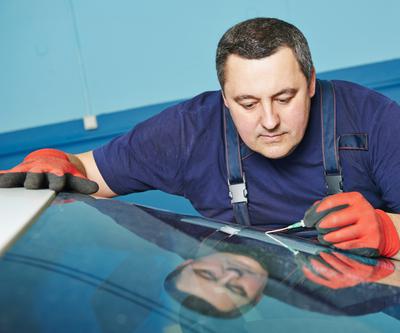 A small nick in the glass can sometimes stay that way indefinitely. You may find you're able to drive around that way for months or years without doing anything about it. However, this can be dangerous. First, that chip or ding could grow larger at any time. Changes in the temperature can cause the nick to become a full-blown crack. Also, this could cause a weakness in your class and as you drive, the pressure from the air outside on the windshield could make it spread. Closing your car door, hitting a bump, or seemingly nothing at all can turn a tiny chip into a big problem. For this reason, you should strongly consider fixing any windshield damage immediately, even if it seems very minor.
Depending on the size of the crack, you may be able to simply repair the glass. Typically, if the damage smaller than a dollar bill, it can be repaired. An auto glass technician will vacuum the air out of the crack, then use a resin to seal it and keep moisture and debris out. It's very possible that the crack will be almost invisible once repaired, so you may not even notice the damage. This repair can usually be completed in under 30 minutes and will cost around $50.
If the crack is larger than a dollar bill, you'll have to replace the windshield. The damaged one will be removed and a new one will be installed into the vehicle frame. Urethane will be used to seal the new windshield. This type of repair can take less than an hour to perform, but you'll need to wait a few hours before you can drive the car so that the urethane can cure. You should expect to pay closer to $300 for this service.
If you have comprehensive coverage on your auto insurance policy, windshield repair and replacement may be covered. However, since the cost is generally lower than most deductibles, you may opt to skip the insurance claim and just pay out of pocket. There are also some auto policies have windshield damage coverage built in with no deductible. Place a call to your insurance company to find out the details. At the very least, they can often point you to a reputable repair service in your area.
Taking care of small problems before they get worse is always a good bet when it comes to car repairs.
If you're ready for a new car but your credit is keeping you from getting approved, CreditYes can help with our bad credit auto loan program! We can match you with a dealership in your area that will be with you ever step of the way. Our service is fast and free. Fill out our secure online application and get behind the wheel of your next car today!