WHAT TO DO WHEN YOUR CAR BREAKS DOWN
Posted on: Jun. 29, 2017 in Safety, Auto Maintenance

A broken-down car is an annoying inconvenience when it happens at home. But if you're on the road and something goes wrong, it can be frustrating and irritating. If you're not sure what to do, it can also become frightening and unsafe.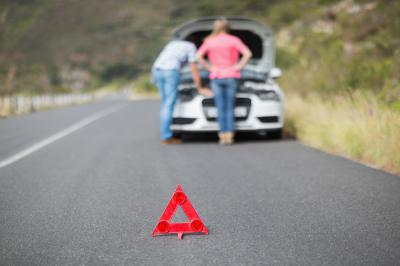 Planning ahead for handling a crisis (or a minor mishap) can give you peace of mind while you drive. Here are some tips to for what to do when the dashboard lights up or the alarms are sounding.
Stay calm. Panicking will never make a situation easier.
Make your way to the right-hand shoulder as soon as you can. If you're on a fast-moving multi-lane road, this is especially important. Put your signal on, check your mirrors and over your shoulder, and get to safety.
Although you want to get off the road as quickly as possible, be sure to find the safest place to do so. Straight stretches of road are better than curves and other areas where oncoming traffic won't see you.
Consider that you may need to leave your car to walk for help, so try to pull over where this will be easier.
If it's daytime, turn on your hazard lights/emergency blinkers to warn oncoming traffic.
If it's dark out, turn on your interior light to make you more visible. Keeping the engine running will help prevent your battery from draining. Avoid using your hazards/blinkers at night as it can make your car appear to be moving and could potentially lead to getting hit by oncoming vehicles.
If you have a flat tire, do not attempt to change it unless it's on side of the car that is away from traffic or you're able to pull far enough away from the road to do so safely. Use extra caution if the area is not well-lit.
If you need to check the engine, do so only from the side of the vehicle that is away from traffic.
If you have lights or flares and you can safely set them up, do so about six feet behind your car to warn other vehicles. You can also hang a white cloth or paper from your window to alert other drivers and the highway patrol that you need help if you're unable to call for assistance.
If you cannot drive your car or you need assistance, call for help. If you don't have a cell phone or cannot get a signal, look for an emergency call box.
Many insurance plans come with roadside assistance. If your car is new from a dealer, you may have this included with your warranty. If you don't have a plan already, consider an outside plan from an organization like AAA. You always hope you'll never break down and get stuck on the side of the road, but knowing where to get help is important. And remember, safety first!
If you're ready for a new car but your credit is keeping you from getting approved, CreditYes can help with our bad credit auto loan program! We can match you with a dealership in your area that will be with you every step of the way. Our service is fast and free. Fill out our secure online application and get behind the wheel of your next car today!