WATCH OUT FOR DEER WHILE DRIVING
Posted on: Oct. 13, 2017 in Driving

If you live in a state with a large deer population, watch out. It's mating season and the deer are on the run.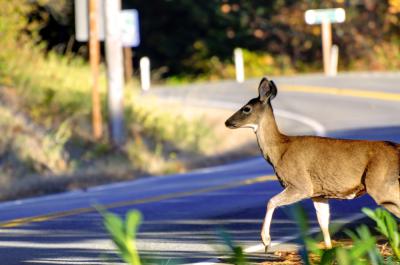 There's some debate on which month is the worst for auto crashes involving deer, but fall is very often a time where crashes are more frequent. There are several reasons for this, but the biggest one is that the deer are looking to mate. They are more active and more likely to be out and about. Another contributing factor is that deer are particularly active at dawn and dusk, a time when visibility is lower. By mid-fall, dawn and dusk tend to coincide with the common commuting hours, increasing the number of cars on the road.
Deer scare easily and can be confused by cars whizzing by them. Loud noises such as engines and horns can also set them off running into the road. Because of their unpredictability, it's important for drivers to drive responsibly to avoid a crash.
Driving in an area known for deer? Here are some tips.
Slow down. The faster you drive, the more likely you are to scare a deer or not have the time to react to one who darts into the road. To compound matters, the damage to the car and the extent of the injuries to the deer will be worse the faster you are driving.
Stay alert. If ever there was a time to avoid distraction, it's now. If you're prepared to react to an animal, it's more likely you'll be able to timely. Scan the roadside for deer, looking for the reflection of your lights in their eyes. Ask passengers to keep an eye out as well.
Consider your surroundings. It's less likely you'll see deer in a city or urban area. If you're in a more wooded area or grassy areas along a highway, use extra caution. Deer are more active as it's getting dark, so consider the time of day.
React appropriately. Although your first instinct might be to swerve if you see a deer in your path, beware of other cars, guard rails or other structures that you may be swerving into. Avoiding the deer is great, but you don't want to hit someone or something else in the process.
Wear your seat belt. Many injuries and human fatalities occur because the car's occupants aren't belted at the time of the impact.
If you do hit a deer, don't panic. Pull over if you can and put on your hazard lights to alert other drivers. If it's possible to shine your headlights on the deer, do so. Do not get too close to the animal because it may hurt you out of fear. Call the police to assist with the injured or dead animal, and to file a police report. You'll need that for insurance purposes.
Whether you're accustomed to driving in an area with deer or not, just remember that the same safe driving practices you use every day can help you avoid a collision with a deer, too.
If you're ready for a new car but your credit is keeping you from getting approved, CreditYes can help with our bad credit auto loan program! We can match you with a dealership in your area that will be with you every step of the way. Our service is fast and free. Fill out our secure online application and get behind the wheel of your next car today!