TIPS FOR A CLEAR WINDSHIELD
Posted on: Feb. 05, 2017 in Driving, Safety, Cars, Auto Maintenance

When you're driving a car, you need to be able to see. It seems obvious, but how often do you find yourself shielding your eyes from glare or shifting around in your seat trying to see around some sort of debris on your windshield? It probably happens more often than we like to admit. For some, it may be as simple as not taking a few minutes periodically to clean the windshield before it becomes a hazard.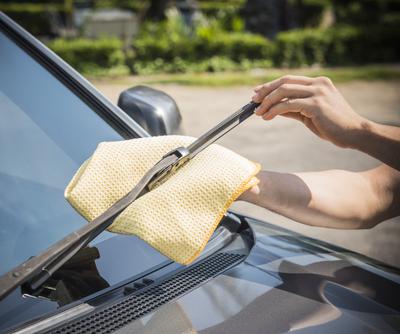 Here are some tips to keep you seeing clearly:
Wiper blades. Functional wiper blades are essential. They tend to need replacement about once per year, but if they aren't clearing water or snow, or if they're leaving streaks, it's best to change them right away.
Wiper fluid. Check your wiper fluid reservoir and top it off if necessary. This is especially important during months with wet weather where dirt, salt, or other debris can be splashed up onto your windshield as you drive.
Water. The first step to a clean windshield is to give it a rinse with clear water first. Then wipe it with a microfiber cloth. The kind with a waffle pattern work well to lift debris stuck on the glass.
Ammonia-free cleaner. Ammonia, a common ingredient in many glass cleaners, can damage the rubber and plastic surrounding your glass, so it's best to avoid it. There are many ammonia-free formulas on the market, including ones made especially for windshields.
Microfiber cloth. We mentioned microfiber once already, but it's best to have another cloth handy for drying. Avoid letting the sun dry your windshield as it can leave streaks, residue or debris.
Interior. Don't assume all the grime is on the outside. The inside of your glass is just likely to have a film as the outside. If you smoke inside your car, this is even more likely to be true, even if you roll the windows down. Use the same method on the interior glass as the exterior.
Cleaning your vehicle's glass regularly can help reduce glare from oncoming traffic or the sun. A clear windshield is essential – even the smallest particle obstructing your view can become a hazard as you drive.
If you're ready for a new car but your credit is keeping you from getting approved, CreditYes can help with our bad credit auto loan program! We can match you with a dealership in your area that will be with you ever step of the way. Our service is fast and free. Fill out our secure online application and get behind the wheel of your next car today!