TAKATA ANNOUNCES MORE AIR BAGS TO BE RECALLED
Posted on: Jul. 14, 2017 in Cars, Safety

Takata Corporation, the air bag manufacturer who has been embroiled in recalls and lawsuits for year, has now declared an additional 2.7 million air bag inflators as defective. Affected vehicles include models from Ford Motor Co., Nissan Motor Co., and Mazda Motor Corp. The inflator in these vehicles was previously thought to be safe.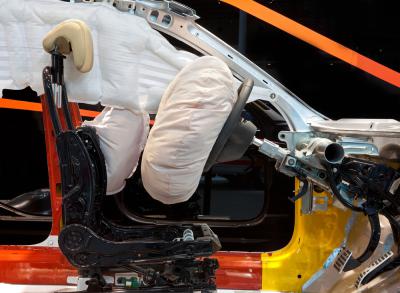 Like the previously recalled inflators, these can explode and shoot shrapnel at drivers and passengers. So far, 17 people are known to have died from this and more than 180 have been injured, resulting in the largest recall of cars in United States history.
The inflators that have been recalled already were deteriorating due to high airborne humidity and high temperatures. Takata believed that a drying agent they used in this group of inflators stopped the inflators from breaking down, but new evidence says there is still a risk. Though no additional deaths or injuries have been reported, tests show there is cause to recall the inflators with the drying agents.
Originally, Takata was to recall all inflators that did not contain a drying agent by the end of 2018. They also agreed to prove that those with drying agents were safe by the end of 2019. However, in that testing process, those with this particular agent may not be as safe as previously thought. This raises questions as to the safety of other drying agents also thought to be safe.
Because of the recall, Takata has filed for bankruptcy, however, they say they will continue to make replacement parts available.
Owners of affected vehicles will be notified that their air bag inflator has been recalled. The National Highway Transportation Safety Administration urges those notified to get them replaced as soon as possible. If you'd like to check if your car is part of this or previous recalls, visit the NHTSA's website.
If you're ready for a new car but your credit is keeping you from getting approved, CreditYes can help with our bad credit auto loan program! We can match you with a dealership in your area that will be with you every step of the way. Our service is fast and free. Fill out our secure online application and get behind the wheel of your next car today!