SPRING HAS SPRUNG - DRIVE SAFELY!
Posted on: Mar. 21, 2017 in Safety, Driving, Weather

As the weather grows warmer now that spring is here, it's important to be extra aware of your surroundings. Snow and ice may be the perils of winter, but spring brings many driving obstacles of its own. Staying alert and avoiding distracted driving are always the top safety tips, but in spring, there are plenty of other things to keep you on the lookout!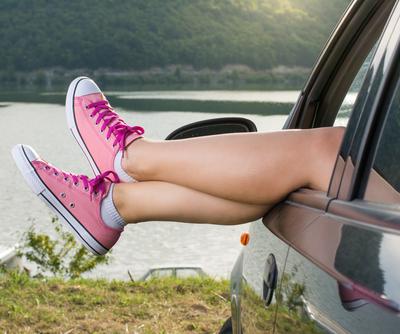 Wildlife. Spring brings many animals out of hibernation. You're likely to see more deer, bear, and other wildlife. In other areas, you may see more squirrels, opossum, raccoons, and other animals that can dart out into the road. Sudden movements by creatures, particularly in the dark, can catch you off guard and contribute to an accident. Be alert for animals on the side of the road. At night, look for headlight reflections in animals' eyes.
Pedestrians. Warm weather gets many people outside and onto the sidewalks. Adults and children alike will be outside more to enjoy the warmer weather. While driving through residential areas, slow down and stay alert to children playing who may run out into the street. Look for groups of people crossing at crosswalks (and where they shouldn't!) who may not be paying attention. Follow traffic laws for stopping for pedestrians as well.
Cyclists. Motorcycles and bicycles will begin to return to the road as well. Remember that bicyclists and motorcyclists share the roads with cars and have the same rights. Use extra caution in your blind spots while turning, passing, or merging. Be sure to look over your shoulder before you open your car door to exit when parked on the side of the road.
Road work. From the filling of potholes to road resurfacing, to major construction, road repairs become more prevalent in spring. Slow down through work zones and stay alert to sudden changes. Watch for slower moving construction vehicles and workers who may be close to where you're driving.
Weather. Just because it's spring, that doesn't mean weather is less of a concern. In early spring, there's often a chance that roads can become slick with ice in the overnight and early morning hours. Sudden rainstorms are possible as well, causing flooding. Even a short storm can wet the road and make driving more dangerous. If rain starts, slow down and put your headlights on. Should a storm become intense, find a safe place to pull over until it passes.
For many, spring is truly a reawakening, pulling them outside into the sunshine. The increased number of cars, pedestrians, motorcyclists, and bicyclists can lead to an increased number of accidents. Use extra caution so that every can enjoy the weather and arrive safely to their destination.
If you're ready for a new car but your credit is keeping you from getting approved, CreditYes can help with our bad credit auto loan program! We can match you with a dealership in your area that will be with you ever step of the way. Our service is fast and free. Fill out our secure online application and get behind the wheel of your next car today!