SPARE TIRE BASICS
Posted on: Feb. 01, 2017 in Cars, Auto Maintenance
If you're like most people, you don't think about your car's spare tire until you need it. At that point, it might be too late to make sure you're prepared. No matter what kind of tire you have, you'll want to check it periodically to make sure it's always ready for use. If it's been sitting in your trunk for a long period of time, it could be damaged, have insufficient tire pressure, or simply be too old to function properly. After about 10 years, you should replace your spare even if it hasn't been used much. Check your owner's manual for more information.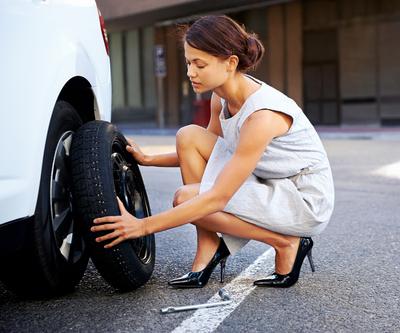 There are three kinds of spare tires:
Matching full-size spare: This tire is the same as the other tires already installed. If you need it, you can use it without concern over the car's driving performance. However, it's the biggest of the spare tires and will use up considerable trunk space should you decide to keep it there.
Non-matching full-size spare: This tires is the same size as your regular tires, but it is lighter in weight and has a shallower tread depth. It's easier to install and takes up less room in your car than a matching full size spare. This tire should not be used on a long-term basis.
Donut: This is a temporary tire meant only for emergencies. Your car will not handle as usual and you'll need to reduce your speed when driving on it. You also can't drive unlimited miles on it. If you must use your donut, you'll want to get a full-size tire back on the car as soon as you can. A donut will take up less room in your trunk, letting you utilize that space for other things.
When you purchase a new or used car, you'll want to check the spare thoroughly. Also, make sure your car has a spare at all, since some new cars don't come with them anymore.
If you're ready for a new car but your credit is keeping you from getting approved, CreditYes can help with our bad credit auto loan program! We can match you with a dealership in your area that will be with you ever step of the way. Our service is fast and free. Fill out our secure online application and get behind the wheel of your next car today!