SHARE THE ROAD WITH SCHOOL CHILDREN
Posted on: Aug. 12, 2017 in Safety, Driving

When school is back in session, motorists must use extra care when driving anywhere children might be present. That includes around school buses and all over most residential areas. Pedestrians will be out walking children to and from school and drivers need to know the rules of the road and drive with caution.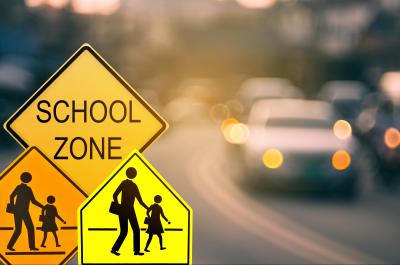 Here are seven tips for sharing the road with young pedestrians:
Be patient. Children can sometimes take their time while crossing the street. While it may be frustrating, don't beep at them or try to rush them along. A child could get startled and fall or get scared.
Don't assume. Kids are unpredictable. They may seem to be headed one way and then dash out the other. They can pop out from between parked cars or cut across streets in random places.
Slow down. You shouldn't be flying through a residential area anyway, but speeding can be extra dangerous where children are likely to be present.
Follow instructions. If directed to stop by a crossing guard, school officer, or other school official, do so. They may have eyes on some kids that you can't see.
Yield the right-of-way at crosswalks. In many areas, pedestrians have the right of way at crosswalks. This may be indicated by a sign or flashing lights. Use caution as you approach these areas so as to notice people intending to cross.
Don't block the intersection. If you're stopped at a light or a stop sign, don't stop in the crosswalk. If walkers must go around your vehicle, they may be forced into a dangerous intersection. Oncoming traffic may not see them and they have a greater risk of getting hit.
Don't be stubborn. Sure, you may have the right of way and maybe the kids are old enough to know better, but they are still children after all. Assuming they'll always make the right choice or realize they're making a dangerous choice is unwise. Children take risks and don't always recognize danger. Drive in a manner that will keep everyone safe, even when you're right and they are wrong.
Sharing the road with pedestrians is a year-round necessity, but back to school is an excellent time for reminders.
If you're ready for a new car but your credit is keeping you from getting approved, CreditYes can help with our bad credit auto loan program! We can match you with a dealership in your area that will be with you every step of the way. Our service is fast and free. Fill out our secure online application and get behind the wheel of your next car today!