PREVENTING VEHICULAR HEATSTROKE IN CHILDREN
Posted on: Jul. 08, 2017 in Safety

Already this year, 18 children have died of heatstroke because they were left in cars. Last year, the total was 39. Since 1998, there have been 718 children have died this way. We've all heard these stories on the news. We think it can't happen to us. It won't be our children.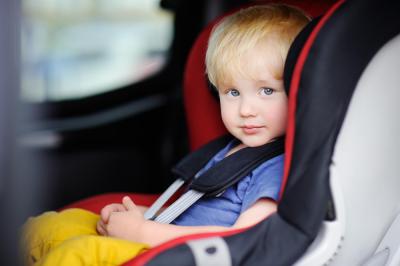 Unfortunately, all it takes is one mistake and a life can be lost. Knowing the facts about how these tragedies happen and what you can do to prevent them could be what saves a child.
Think about how many times you've thought the air felt comfortable but then, when you got into your car, you were sweltering. The truth is that it doesn't have to be that hot outside for the inside of a vehicle to reach deadly temperatures. Children have died on days where the outside temperature has been in the 60s or when a window was slightly open. Even on cloudy days, the car can heat up fast.
The reasons a child was in a car unattended are an important key to prevention. Consider this:
17% of children were left in the car intentionally
28% were playing in the car unattended
54% were left in the car unintentionally, or forgotten
More than half of the children who have died have been under age 2.
Given these circumstances, here are some ways to prevent vehicular heatstroke in children:
Never leave a young child alone in a car. Heatstroke can happen quickly, even when you're running into the store or the house for a forgotten item.
Don't leave your keys where a child can reach them and gain access to the car. It's all too easy for them to get stuck or simply not realize how hot it is while they're playing.
To avoid forgetting your child in the car, create prevention routines such as

Placing your bag or briefcase in the back seat so you'll see your child when you retrieve it.
Always look into the back seat before you lock the car. Do this every time so you never forget.
Keep an object or stuffed animal in the child's seat when the child isn't in it, then move it to the front seat when the child occupies the seat.

Always check in with your child's care provider if you are not doing the driving that day. Make sure your child arrived safely to their destination.
If you see a child alone in a hot car, do something. If a child is unresponsive or shows signs of distress call 911 and get the child out of the car. If the child is responsive, stay with the child and ask someone to help locate the driver. Don't assume the driver will be right back and don't wait more than a few minutes before taking action.
Accidents can happen and lives can be lost in the blink of an eye. Together, we can help keep children safe.
If you're ready for a new car but your credit is keeping you from getting approved, CreditYes can help with our bad credit auto loan program! We can match you with a dealership in your area that will be with you every step of the way. Our service is fast and free. Fill out our secure online application and get behind the wheel of your next car today!