PREVENT INJURIES FROM AIRBAGS
Posted on: May. 24, 2017 in Safety

Airbags have been in the news recently due to recalls and safety concerns. There have also been reports of airbags injuring vehicle passengers on deployment. These are, of course, important things to keep in mind when thinking about the overall safety of your vehicle. However, time and again, airbags have been proven life savers in many car crashes.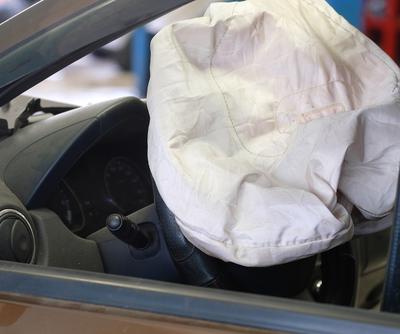 According to various reports, airbags have saved the lives of thousands of individuals each year since they became a routine safety feature in cars. While many have been injured or killed by airbags, or have reported that they didn't deploy when they should have, experts maintain that the number of people they do protect outweighs those concerns.
How do airbags work? Cars equipped with airbags have sensors that tell them to deploy if the vehicle stops or slows suddenly. An electrical charge sparks a chemical reaction and the airbag is inflated with nitrogen gas as well as air from air vents. They are coated with a powder that is intended to keep the airbag from crumpling or sticking inside it's compartment.
While there isn't much you can do during an accident to prepare for airbag deployment, there are some things you can do to keep your passengers safe before a collision. Here are some things to consider:
Sit as far away from the steering wheel as possible, as being too close can cause injury during deployment. Shorter drivers may find this especially difficult and may wish to talk to car dealers about assistive devices to allow for better reaching of controls.
Using proper posture, wearing a seat belt, and keeping your hands at the recommended 10 and 2 positions on the steering wheel will also help in crash.
Front seat passengers should also sit as far back as they can.
All passengers should wear seat belts in the proper position at all times, and should sit upright with both feet on the car floor.
The safest place for children is the back seat using seat belts and car seats or boosters, depending on the size of the child. Frontal airbags were not designed with children in mind and can be extremely dangerous or fatal to children riding in the front seat. Side or curtain airbags, like the ones you find in the back seat of the car, are safer for children.
Airbags can deploy as fast as 200 miles per hour. Without seat belts properly fastened, a passenger can be launched into the air bags, causing injury. Obviously, avoiding car crashes is the best way to protect drivers and passengers, but using the safety technology available can help keep people safer, even in the worst of situations.
If you're ready for a new car but your credit is keeping you from getting approved, CreditYes can help with our bad credit auto loan program! We can match you with a dealership in your area that will be with you ever step of the way. Our service is fast and free. Fill out our secure online application and get behind the wheel of your next car today!