PACK SAFELY FOR YOUR NEXT ROAD TRIP
Posted on: Mar. 24, 2017 in Driving, Safety, Cars

As the weather warms up around the country, people start to get some wanderlust that only a road trip can cure. Driving to a short getaway is a popular springtime activity. If you're planning to hit the road, you'll want to plan ahead and pack the essentials. But packing isn't just about how much you can stuff into the car. It's about making sure you've packed the car safely so that you, your family, and your belongings get where you're going!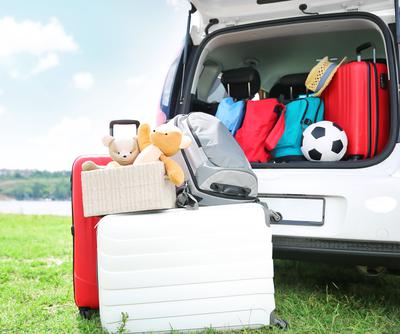 When loading the car for a road trip, keep in mind a few key concepts:
Stability – Heavy items should be packed first and centered inside the trunk or cargo area. Then, add in lighter items that can go on top and on the sides of the larger suitcases and such. This will help prevent your belongings from getting crushed. The items will also be more likely to stay where you put them. Finally, the center of gravity will be where it should be – in the center – making the car easier to handle and less likely to tip over in an accident.
Height – Never pack items in such a way that your view is obstructed. You must be able to fully see using your rear-view mirror. Items should be low enough that you're able to see all around. Also, keep in mind that items stacked too high are more likely to fall over and could potentially hurt someone. If you stop short or get into an accident, items from the back can become projectiles and fly forward into the driver's area.
Ability to stop – Heavy cars take longer to stop. If you've weighed the back down with everything but the kitchen sink, plus the whole family, you have to account for this heavier load. When the back of the vehicle is full, it's even more important to keep a safe following distance and slow down.
The beauty of taking your car on a trip rather than a plane or train is that you can bring what you need without the same luggage restrictions. But don't let that fool you into thinking you can pack everything. Bring just what you need for the time you'll be gone and leave the rest at home.
The most essential piece of equipment for a road trip is a car! If you're ready to hit the road but your credit is keeping you from getting a car, CreditYes can help with our bad credit auto loan program! We can match you with a dealership in your area that will be with you ever step of the way. Our service is fast and free. Fill out our secure online application and get behind the wheel of your next car today!