MOTOR OIL: CONVENTIONAL OR SYNTHETIC?
Posted on: Jul. 07, 2017 in Auto Maintenance

It seems as though getting an oil change should be a fairly easy process. There are even places where you can get them done in just a few minutes while you wait. But if you don't know the difference between synthetic and conventional motor oil, things can get a little more complicated.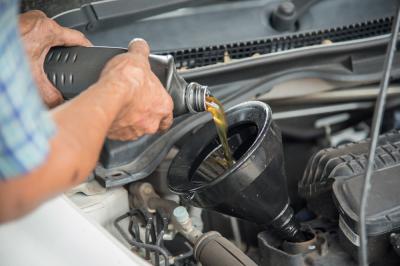 Generally speaking, conventional oil is made from petroleum and synthetic oil is made from chemicals. Both serve the same purpose, which is to lubricate the engine parts as they rub together causing friction. It also absorbs the heat, extending the life of the parts and the vehicle itself. Eventually, the oil breaks down and needs to be changed periodically.
The confusion comes in when you have to decide whether to use synthetic or conventional oil. Here are some factors to keep in mind.
Synthetic oil lasts longer, meaning you'll have to change it less frequently.
Synthetic oil can withstand higher temperatures than conventional oil.
Synthetic oil performs better in cold temperatures and may be easier on your engine in colder weather.
Although synthetic oil seems better for your car, it is significantly more expensive than conventional oil. Depending on the source you read, you can pay anywhere from two to ten times more for synthetic over conventional. However, if you change your oil less frequently with synthetics, it can all even out.
If you make frequent short trips with your car, synthetic oil can be a better bet because it can handle the impurities of these shorter trips. The climate in which you drive can also play a role in the decision-making process – any extreme, whether very hot or very cold, will be cause to use synthetic oil. Vehicles that carry heavy loads or are used for towing will also benefit from the protective properties of synthetic oil.
Your vehicle's manufacturer should set forth guidelines in your owner's manual outlining what kind of oil to use and how frequently to change it. If the manufacturer doesn't specifically call for synthetic, then it's likely not necessary for your vehicle. You can still make the choice to use it if you prefer and take advantage of its extended life.
If you're ready for a new car but your credit is keeping you from getting approved, CreditYes can help with our bad credit auto loan program! We can match you with a dealership in your area that will be with you every step of the way. Our service is fast and free. Fill out our secure online application and get behind the wheel of your next car today!