MONEY TIPS FOR RECENT GRADS
Posted on: Jul. 06, 2017 in Money

You're finally out of school and you've landed your first job. That paycheck, or what's left of it after taxes, might still seem huge if it's the most you've ever earned. It can be easy to get carried away and spend more than you should. It's also easy to feel like you can take a few months and enjoy the money and there won't be consequences.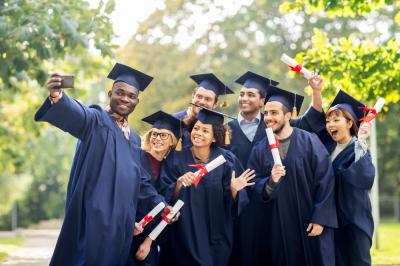 Ignoring your finances is never a good idea, regardless of the reason. The first way to have power over your cashflow is to give it the attention it deserves. Here are some things recent college grads (and everyone else!) needs to know about money matters:
It's a process. Experts can tell you all the things you should do, but sometimes it can feel like the experts just don't know real life. The truth is, life happens. Mistakes happen. You may overspend on something or fail to save up for something else. We've all been there. The trick is to figure out what went wrong and make an adjustment.
It's not one and done. You can't just set it and forget it when it comes to money. Expenses change. Families grow. You get a raise or you get laid off. Your financial plan will change over and over again, and it's your job to shift gears and plan your next move.
Savings, savings, savings. Starting with that very first paycheck, you need to start saving. You might thing you have time, and maybe you do. However, every penny you save today helps to build a better tomorrow. Start with your $1,000 emergency funds and work your way up to three- to six-months' worth of expenses. As soon as you're eligible, join your employer's retirement savings plan. Build the savings habit now before life gets even more complicated.
You don't need what everyone else has. Everyone's life looks picture perfect from the outside. But when friends are acquiring new things or taking amazing trips, keep in mind that you don't know what's going on behind the scenes. They could be racking up the credit card debt or eating next to nothing to afford those things. You have to choose your own priorities and work for the things that matter for you. You don't need to compare yourself to anyone.
Everyone's got an opinion. There are many articles out there with financial advice. Not all of it will be right for you. No one financial plan is right for everyone all their life. Take what you need and leave the rest. Set your own goals and then find the path that leads to achievement. Don't get sidetracked by other people's paths.
When you're just starting out, it's easy to get overwhelmed. So, take a step back and make a plan, then be ready to revise it as you. Remember, it's all a journey!
If you're ready for a new car but your credit is keeping you from getting approved, CreditYes can help with our bad credit auto loan program! We can match you with a dealership in your area that will be with you every step of the way. Our service is fast and free. Fill out our secure online application and get behind the wheel of your next car today!