MONEY TIPS FOR COLLEGE STUDENTS
Posted on: Dec. 20, 2017 in Money
If you're just wrapping up your first semester at college and you're headed home for winter break, now is a great time to take a look at how you did financially. Did you make through with a few pennies to spare or did you barely survive?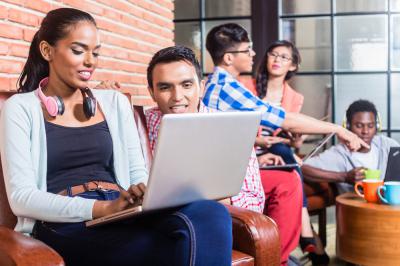 College is the first time many young adults are responsible for their own finances, and they often have to maneuver this new realm with little guidance. If you could use a little help in the money department, here are some tips to help you get through the rest of the year.
Set Up a Budget
Budgeting isn't fun or glamorous, but it's necessary it's a necessary tool that can help keep you from running out of cash. A simple budget includes how much money you have, how much you expect to earn, and how much you'll need to pay out. If you know how much you can afford to use for fun, you can keep things under control. An occasional splurge is fine and may not leave you broke, but if you're completely unaware of what's in the bank, a splurge can sink you.
Use Credit Carefully
Credit card companies go after college students hard. They assume you don't have much money at your disposal, so they offer you easy access to some. However, read the fine print to understand all the terms and conditions. Overspending now can lead to debt later. Failing to pay off the card in full each month can lead to mounting interest charges and late payments can ruin your credit.
Go to the Bank (Or Their Website)
Banks aren't just helpful for wealthy people. Most banks offer a variety of tools to help customers manage their money. Check what your bank has to offer, such as budgeting tools, mobile apps, and online bill pay. Use your own bank's ATM when withdrawing cash to avoid fees. If you're not sure which of your bank's services are right for you, ask. They are there to help!
Research
Ask for help if you need it. No one is born able to handle their finances. If you need assistance managing your money, ask for it. While there are plenty of online resources such as blogs and articles about finance, you may still find yourself confused. Don't be afraid to reach out to someone more experienced for guidance.
Ignore the Joneses
Don't try to keep up with anyone. Everyone around you may seem like they are spending, buying new things, and living large. And maybe they are, but keep your eyes on the prize: financial security. Save some funds for a rainy day, live within your means, and plan ahead for rough patches.
It's never too early - or too late - to get a handle on your money!
If you're ready for a new car but your credit is keeping you from getting approved, CreditYes can help with our bad credit auto loan program! We can match you with a dealership in your area that will be with you every step of the way. Our service is fast and free. Fill out our secure online application and get behind the wheel of your next car today!