MAY IS NATIONAL MOTORCYCLE AWARENESS MONTH
Posted on: May. 27, 2017 in Driving, Safety

May is National Motorcycle Awareness Month. Motorcyclists must consider additional safety concerns that car drivers don't have to think about, such as helmets, lack of seat belts and air bags, and road conditions. It's imperative that those driving on four wheels do all they can to safely share the road with their fellow two-wheeled travelers.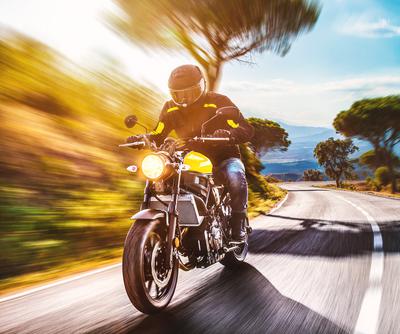 Motorists can sometimes feel apprehensive when driving around motorcycles. Motorcycles can be harder to see, can travel faster than cars, and can change lanes or ride between lanes in ways that cars cannot. Motorists, because they are driving the heavier vehicle and because motorcycles don't have all the same safety features, must drive carefully. Here are some things to keep in mind.
Weather. When the weather is bad, drivers should slow down, leave extra room, and generally up their awareness. If you see someone on a motorcycle, consider that it's even more difficult for them to maneuver. Give them even more room to navigate.
Blind spots. Because motorcycles are smaller than cars, they can get into your blind spot much more easily than a car can. Be sure to check your blind spot often as you drive. If you're going to change lanes, checking over your shoulder is an absolute must.
Turning. Turning vehicles are very often the cause of fatal motorcycle crashes. If you're trying to turn, pay extra attention to your surroundings to make sure there's not a motorcycle coming up behind you. Again, remember your blind spot.
Distance. Most experts recommend keeping a three-second following distance behind cars. If there are motorcycles around you, consider increasing that distance to at least four seconds. That extra time can save a life.
Lanes. Give motorcyclists their fair share of a lane – specifically, the whole thing! Just because it looks like your car can fit next to a motorcycle, you don't have the right to ride next to them in the same lane. It's not legal and it's incredibly dangerous.
Safety is everyone's concern. Now that the warmer weather is here, there will be an increase in motorcycles on the road. Be respectful, drive safely, and follow the rules so everyone arrives alive.
If you're ready for a new car but your credit is keeping you from getting approved, CreditYes can help with our bad credit auto loan program! We can match you with a dealership in your area that will be with you ever step of the way. Our service is fast and free. Fill out our secure online application and get behind the wheel of your next car today!