KEEP PASSENGERS SAFE WITH SEAT BELTS
Posted on: Oct. 25, 2017 in Safety

Seat belts are one of the most well-known safety features in cars. They've been proven to save lives, however, there are still many who chose not to use them. The CDC states that young adults aged 18-24 are less likely to wear their seat belts than older groups and that men are less likely than women. Research shows that in 2015 alone, 14,000 lives were saved because of seat belts.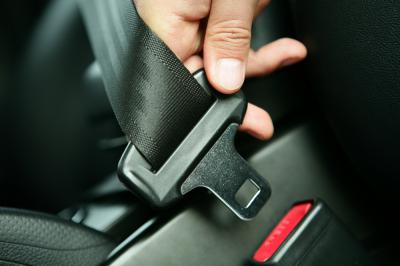 Areas with primary enforcement laws, that is, an officer can pull over a car and issue a ticket if they see a driver or passenger without a seat belt, are shown to have greater seat belt use than those areas without. In 2016, primary enforcement states showed a 92% seat belt usage over the 83% in states without these laws. Currently, only 18 states have primary enforcement laws. The rest have secondary enforcement, that is where a ticket can only be issued if the driver is pulled over for another reason, or no law at all.
How do seat belts save lives? Consider this:
A passenger in a car traveling at 30 miles per hour will hit the windshield at 30 miles per hour if that car should get into a front-end collision. This impact is similar to a person falling from the top of a three-story building.
Passengers in the backseat are three times more likely to die in a car crash if they are not wearing a seat belt.
In an accident, unsecured passengers can be propelled inside the vehicle, potentially hurting other passengers and themselves.
States with primary enforcement for the front seat may have only secondary enforcement for the back seat, causing some to believe that the back seat is somehow safer and seat belts aren't necessary. However, regardless of the law, all passengers should wear their seat belt when a car is in motion to increase safety. Children under age 12 should sit in the back. At safercar.gov, parents can learn about the appropriate car seat for their younger child. Knowing how to wear a seat belt and use child safety seats is one thing every driver should know to help protect all passengers they transport.
If you're ready for a new car but your credit is keeping you from getting approved, CreditYes can help with our bad credit auto loan program! We can match you with a dealership in your area that will be with you every step of the way. Our service is fast and free. Fill out our secure online application and get behind the wheel of your next car today!