KEEP DOGS SAFE THIS PET APPRECIATION WEEK
Posted on: Jun. 05, 2017 in Driving, Safety

June 4-10 is National Pet Appreciation Week. You probably shower your pets with love and appreciation all year round, but the first week of every June is dedicated to them, so let's show how much we really care!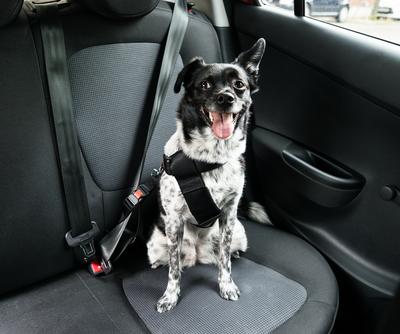 One of the best ways to show your dog you care is to keep your furry friend safe in the car. Whether they road trip with you often, enjoy a daily trip to the dog park, or just venture out to the vet now and again, care safety is an absolute must.
The first order of business is to always secure your pet inside your car. A crate, carrier or seatbelt can help keep your dog safe in case of an accident. Just like with people, flying around a vehicle unsecured after an impact can lead to additional and more severe injuries. Also, particularly a smaller dog, can become a projectile during a crash, injuring others in the car. Consider, too, that a dog can potentially escape the car after an accident, getting lost or hurt on the road by oncoming traffic. A scared or injured dog can become aggressive and hurt someone who comes along to help.
Another reason to restrain your dog is that dogs in the front seat tend to become a distraction, causing you to lose control. Never let a dog sit in your lap or go near your feet when you're driving. If you have a larger vehicle, such as one with a back area or third row seating, your dog should ride as far back as possible at all times.
Remember to always be sure your dog's collar is securely in place and the tags clearly contain the dog's name and your contact information. Having your dog microchipped can also help your dog get home if it becomes lost.
Dogs love it and they sure do look cute when they do it, but sticking their heads out the window while the car is in motion is very dangerous. Rocks, glass, and debris can get kicked up in the road and injure the animal. Also, the dust alone can be enough to irritate eyes and the mucous membranes, causing discomfort.
Never leave your dog unattended in a car, even for a minute. If they become frightened, they can damage the car or even disengage a parking brake. The temperature inside a car can quickly become too hot or too cold, even if it seems unlikely, and your dog can become ill or die.
Never let a dog ride in the back bed of a pickup truck. Thousands die each year this way. Without protection, projectiles can hit them. The dog may also try to escape – and a leashed dog can get strangled if it jumps out of the bed.
If you really want to show your dog how much you care, travel in the safest manner possible. Nothing says love and appreciation like keeping them safe, so you can continue to enjoy rides together for the years to come.
If you're ready for a new car but your credit is keeping you from getting approved, CreditYes can help with our bad credit auto loan program! We can match you with a dealership in your area that will be with you every step of the way. Our service is fast and free. Fill out our secure online application and get behind the wheel of your next car today!