INFOTAINMENT SYSTEMS INCREASE DISTRACTED DRIVING
Posted on: Oct. 15, 2017 in Driving, Safety
Do you have an infotainment system in your car? If you do, you may be spending too much time using it.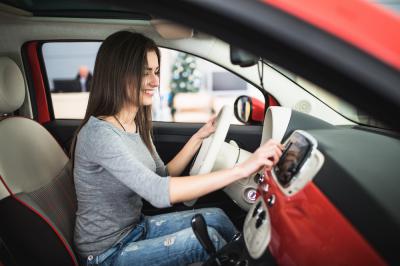 These are the findings from a new study conducted by AAA Foundation for Traffic Safety. More and more cars are coming equipped with in-vehicle systems that can do everything from send text messages to provide navigation. And while they are designed to help drivers, they often result in a dangerous level of distraction.
According to the report, sending texts or programming the navigational system can result in more than 40 seconds of distraction. By comparison, other research has shown that distraction of as little as two seconds doubles the risk of a crash. Considering this, it's a wonder there aren't even more collisions than there currently are.
While many drivers think hands-free and voice-operated technology make these systems safer, they do not make them as safe as not using them at all. As most of the 30 vehicle systems AAA tested were found to be of moderate to very-high demand, the level of distraction caused is still too high.
Programming a destination into a GPS seems like an important task, perhaps even essential, for many drivers. However, the report notes that if this is done while traveling at a rate of 25 mph, a car can go the length of four football fields in the time it takes to complete the task.
Marshall Doney, president and CEO of AAA noted that the issue is even more troubling. "Some of the latest systems on the market," he said, "now include functions unrelated to the core task of driving like sending text messages, checking social media or surfing the web – tasks we have no business doing behind the wheel."
AAA has recommended that manufacturers equip these vehicles with mechanisms that do not allow for these non-core systems to be used while the vehicle is being driven. Advanced technologies are great to have inside the vehicle in the case of an emergency, but the temptation to use them in non-emergency situations must be lessened.
If you're ready for a new car but your credit is keeping you from getting approved, CreditYes can help with our bad credit auto loan program! We can match you with a dealership in your area that will be with you every step of the way. Our service is fast and free. Fill out our secure online application and get behind the wheel of your next car today!