HOW TO PREPARE FOR A SPRINGTIME ROAD TRIP
Posted on: Mar. 31, 2017 in Driving

Spring is the perfect time to head out on the open road and go for a drive. The weather is often more cooperative and after a long winter, getting outside in the fresh air can be just what we need to recharge our batteries! Planning ahead will help keep you safe and prepared so that you can make the most of your journey!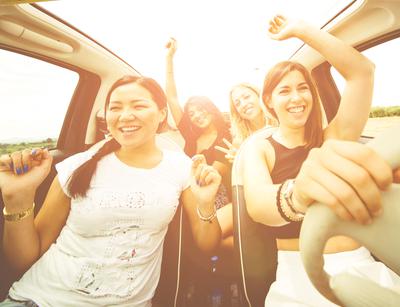 Before you even pull out of the driveway, take some time to check out your car and, if possible, have it looked at by a mechanic. Get an oil change, check the wipers, and top off your fluids. If your brakes haven't been looked at in a long time (or if they've been noisy), have them looked at before you set off on a long car ride. You can also check your battery charge and the terminals, particularly if you'll be driving on long stretches of road with little traffic or places to stop. Be sure your tires are free of tears and sidewall bulges, both of which can lead to a blowout. Don't forget the tread: Insert a quarter upside down into the tread. If Washington's head is visible, it might be time for new tires.
Make sure your car is stocked with the essentials including non-perishable foods, blankets, first-aid kit, water and a flashlight. You'll be glad you have them if you break down on the side of the road. If you're traveling with kids, keep plenty of snacks, drinks, and activities on hand and accessible. Reaching into the back to grab something or hand out food can be dangerously distracting. Don't forget your GPS, phones, and necessary chargers. Consider a back-up battery pack in case of car trouble so you don't drain the car's batter while waiting for roadside assistance.
Now is also a good time to check in on your roadside assistance plan. Whether you purchase a standalone package or you are covered through your insurance company, double check the phone number in case you need to call for service. Be sure your membership is paid up and you have all of your vehicle's information handy such as the registration and insurance information.
Get enough sleep the night before and every night you're on the road. Once you set out, pull over to rest if you feel fatigued. Minimize distractions while driving including the radio, eating or drinking, or dealing with passengers and pets. Use caution while operating the GPS and don't text and drive. Keep a safe following distance, use headlights when it's dark or raining, and use turn signals when changing lanes or turning.
Once you get done preparing, there's not much left to do but to have fun! No matter your destination, getting there safely is a must!
If you're ready for a new car but your credit is keeping you from getting approved, CreditYes can help with our bad credit auto loan program! We can match you with a dealership in your area that will be with you ever step of the way. Our service is fast and free. Fill out our secure online application and get behind the wheel of your next car today!