KEEP THE ROADS SAFE THIS HALLOWEEN
Posted on: Oct. 31, 2017 in Safety

Halloween – the sweetest of holidays! Millions of kids across the country will be out trick or treating tonight and having a blast with family and friends. Unfortunately, many will also be struck by cars and even killed. Children are twice as likely to die from getting hit by a car on Halloween than any other day of the year.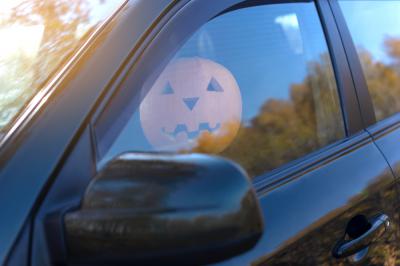 Driving Tips for Halloween
Driving on Halloween is not like driving on a regular day. The streets are filled with children. Here are some safety tips for drivers.
Be extra cautious. Children are likely to run out from between cars or walking in the street.
Slow down. Your far more likely to see the children if you aren't speeding.
Don't assume. Never rely on children to stop at corners. Even if you have the right of way, stopping for children at intersections helps keep them safe.
Be alert. Often, it's already dark by time commuters are on the roads and children are trick or treating. Some kids will be dressed in such a way that they are harder to see. Keep your eyes peeled.
Eliminate distractions. Put your phone down and focus only on the road.
Follow the rules of the road. Other drivers and pedestrians are counting on you to use your turn signals and obey signs. Don't let them down.
Don't pass stopped vehicles. They may be dropping off or picking up kids.
Tips for Trick or Treaters
Drivers bear the responsibility for safe driving on Halloween and every day, but there are things that trick or treaters can do to make things easier. If you'll be out, or you're accompanying children, consider these tips.
Make them visible. Give children flashlights or glow sticks so they are easier to see.
Watch them. Don't let children, especially younger ones, run too far ahead. Make sure they know to stop at intersections and not to run out between cars.
Use sidewalks. If sidewalks are available, use them. Even if you think no cars are coming, it's safer.
Choose neighborhoods carefully. Select areas for trick or treating that are well-lit with less traffic.
Go as a group. A group of people is easier to spot than just a few. Trick or treat with friends and family.
Be cautious. Don't assume drivers will see you or will stop. Don't assume the right of way if you don't have it. Not every driver will let you cross or will be paying attention.
If everyone follows the rules and makes safety a priority, Halloween can be more fun than scary.
If you're ready for a new car but your credit is keeping you from getting approved, CreditYes can help with our bad credit auto loan program! We can match you with a dealership in your area that will be with you every step of the way. Our service is fast and free. Fill out our secure online application and get behind the wheel of your next car today!