DRIVING WITH DOGS
Posted on: Dec. 31, 2016 in Driving, Safety, Cars

When you have a dog, there's almost always a time when it must hop in the car with you and hit the road. Whether you're planning a long-distance road trip or just a local ride to the vet or dog park, safety should always be your top concern. Unfortunately, not everyone takes the proper precautions when bringing a dog into the vehicle. If you're going to be traveling with your dog, here are some tips to help keep you – and your canine friend – safe.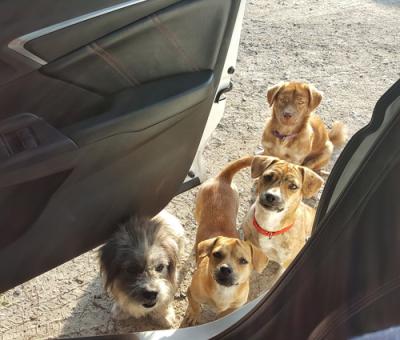 Pets should always be secured inside the vehicle. You can choose from a crate, a seatbelt, or other barriers to keep your animal out of the driver's area. Never let your pet ride up front or on your lap, no matter how small.
An unrestrained pet can become a distraction, particularly if it jumps up front with you, causing you to lose control. Also, if there is an accident, a loose dog can get severely injured or injure others in the car if it becomes a projectile. It could also escape the vehicle and get hit by another car, cause another accident, or simply get lost.
In case your dog does get loose, be sure its tags are securely connected to the collar and the microchip is up to date. Tags should have the dog's name and your contact information clearly indicated.
Never leave your pet alone in the car, even for a minute. Cars can get hot or cold very quickly, leading to a dangerous situation. They can also become upset when you walk away, damaging the vehicle or hurting themselves.
Even though they may love it, do not allow your dog to ride with any part of its body outside the window. Rocks, glass, or other debris can fly up and injure the dog while you drive. There is also a tremendous amount of dirt and dust that can get in the dog's eyes or mucous membranes, causing irritation or injury.
Thousands of dogs die each year while riding in the bed of pickup trucks. A leashed pet could get strangled while an unrestrained one can escape. The lack of protection around the animal makes it all too easy for something to hit it. Also, it could get scared and attempt to get out of the bed, causing injuries or an accident.
If you're going to be taking your dog on a long car ride, practice a few shorter rides so you know how it will react and how it feels about the car. It's better to know what you're up against before you set off on your journey.
Dogs are a beloved part of the family and they should be protected as such. Make sure when you travel with your dog, you do your part as a responsible pet owner and keep your dog safe.
If you need auto financing but your credit is keeping you from getting approved, CreditYes can help! We can match you with a dealership in your area that will be with you every step of the way. Our service is fast and free. Fill out our secure online application and get behind the wheel of your next car today!