CREATE A CAR SURVIVAL KIT
Posted on: Jan. 12, 2017 in Driving, Accidents, Weather, Safety, Cars
Whether you're traveling near or far, in summer or winter, with the family or alone, you should have an emergency kit in your car. Face it, when you're out on the road, it's possible to get stranded somewhere without the ability to get help fast. It's possible you'll be stuck for a little while (or longer). In the modern age of smart phones and connected vehicles, it's easy to get complacent and assume help will always be accessible or even reachable. However, technology can fail, cell signals and wi-fi can be lost or unavailable, or a large-scale disaster can make resources scare. Packing an emergency kit for your car can be a life saver.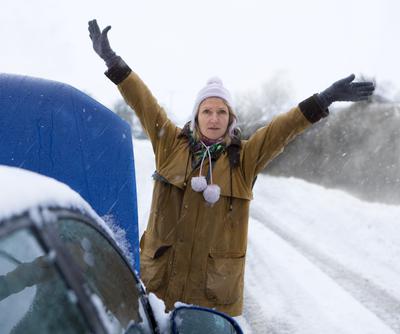 Here are some things to pack in your car, especially for a long trip or one through an isolated area:
FOOD AND DRINK:
Water, sport drinks, 100% vegetable juice
Energy/protein bars
Nuts, seeds, and dried fruits
Peanut (or other nut) butters
Jerky
Dry cereal
Fruit cups
Tuna
EQUIPMENT:
Water filter in case you run out of clean drinking water
Extra bottles for water (or refill the others you've already used)
Flashlights and headlamps
Tarp and heavy-duty trash bags
Emergency solar- or battery- powered radio
Batteries (for the radio and the lights, as well as anything else)
Multi-purpose knife
Work gloves
Small shovel
Fire starters
Blankets (fleece is a good option)
Maps
Walking shoes (particularly important if you tend to travel in heels or dress shoes)
Sun block and bug repellant
Face masks
Quality first aid kit
Fire-starting equipment
SAFETY:
Cash (paper money and an assortment of coins)
Pepper spray (one designed for bears or wildlife is particularly helpful)
Whistle
Flares
OTHER:
Medications, but only if it can survive the elements of your area
Pen and paper
A book (you don't want to drain that phone battery!)
A deck of cards
Change of clothes for all family members (swapped out seasonally)
There are many other things you could include and this list could change depending on where you are and where you're going. This list will get you started. Pack it all in a bin and place it in your trunk. Keep a list of the contents on the top and note any expiration dates or seasonal contents so your kit is always up to date.
You never wanted to be stranded out on the side of the road, but it's good to know you'll be covered if you do.
If you need auto financing but your credit is keeping you from getting approved, CreditYes can help! We can match you with a dealership in your area that will be with you every step of the way. Our service is fast and free. Fill out our secure online application and get behind the wheel of your next car today!