CRACKED WINDSHIELD? READ THIS.
Posted on: Aug. 10, 2017 in Cars, Auto Maintenance, Auto Insurance

For many, the sound of something hitting their windshield as they cruise down the highway can fill them with worry. Will that object cause a nick? A small crack? Worse?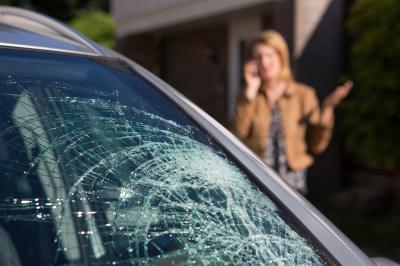 Flying debris on the road can easily be kicked up from the tires of vehicles in front of you. Other times, things can fly off a construction vehicle or seemingly come out of nowhere. The object is travels with force toward you while your car is traveling at sometimes great speed right toward the object. The resulting impact can be severe.
If your windshield cracks, the first thing you should do is call your insurance company or agent. You'll want to find out if your auto insurance policy covers windshield repair or replacement. Some policies cover this repair with no deductible, while others will require your normal deductible which can be anywhere from $250 to $1,000. If you have to pay your deductible, it may not be worth your while to even submit a claim. Your insurance agent can help make that determination.
Bear in mind that in some states, repairing your windshield may not be mandatory. However, a cracked windshield can obstruct your field of vision which could contribute to you getting into an accident later. Also, a compromised piece of glass has a higher risk of breaking if it is hit by another object. You may feel safer repairing the windshield.
If your car was leased, you should also put a call in to the lease dealer. You may be required to repair or replace the windshield in a certain way or with specific parts to avoid violating the terms of your lease agreement. You should be aware that this can conflict with what your insurance policy will cover, so you may end up having to pay out of pocket for a greater portion of the repair.
There are times when a small crack in a windshield can be repaired rather than replaced. A repair can be more cost effective, so it may be the more desirable option but it's important to have the damage evaluated by a professional, as a small crack can become a large one rather quickly when something else comes in contact with it, the car hits a bump, or even when the car door is slammed too hard. Changes in temperature can also cause a crack to worsen.
If a crack in your windshield is the least of your worries and it's simply time for a new car, but your credit is keeping you from getting approved, CreditYes can help with our bad credit auto loan program! We can match you with a dealership in your area that will be with you every step of the way. Our service is fast and free. Fill out our secure online application and get behind the wheel of your next car today!