CONFUSED ABOUT CAR SEATS?
Posted on: May. 19, 2017 in Safety

As rules change and safety standards are updated, many parents find themselves wondering if their child is in the correct car seat. Regulations vary from state to state regarding minimum standards allowable by law, making the whole situation that much more confusing. Even when your child gets a little older, they may ask to stop using their seat or simply refuse to cooperate in the car unless you remove it. When they begin seeing their friends stop using boosters or sit in the front seat, they may begin to feel peer pressure or simply believe you're being too strict.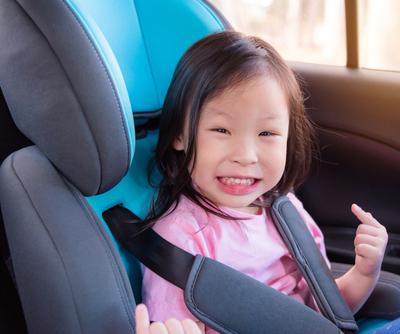 No matter how much your children protest, passenger safety is too important to ignore. Improperly restrained passengers can easily get hurt in an accident, and unrestrained persons can become a projectile, hurting themselves and others.
Rear-facing car seat: Children should remain in a rear facing infant seat until they are a year old. Many newborns start out in a portable carrier; however, they often outgrow that by 8-9 months. You should then purchase a convertible seat that can be used rear-facing for as long as possible, up until your child is three years old. In an accident, this type of seat and position will best protect your young child's neck and spinal cord.
Forward-facing car seat: You can turn the car seat around when your child is between one and three years old, when they no longer have enough leg-space to remain rear-facing. Your forward-facing seat must have a 5-point harness and tether, and should be properly installed. This type of seat will limit the forward motion of a child during an accident. Your child should remain in this type of seat until they outgrow the height and weight limitations on the seat, usually between the ages of 4 and 7 years of age.
Booster seat: A booster seat uses the car's seat belt, but raises the child up so the belt fits properly. There are high-back and backless booster seats available. High-back seats will provide support for the child's neck and back and is recommended for cars that do not have high backs or head rests. If your car has a high back seat and a headrest, you can opt for the backless booster. Your child should remain in a booster seat until the seat belt fits correctly without it and exceeds the height and weight recommendations of the manufacturer. This typically occurs between the ages of 4 and 12.
Seat Belt Only: A seat belt alone can be sued when it fits properly. A lap belt should lie snugly across the upper thighs and not the stomach. The shoulder belt should cross the chest and not the neck or face. Your child may not be tall enough for a seat belt to fit properly until they are 12 years old, in which case they should remain in a booster to avoid injury during a crash.
But when can they sit up front? Kids always seem to want to ride in the front seat, but they should not until they are at least 13 years old.
You can learn more about car seat safety by visiting www.safercar.gov.
If you're ready for a new car but your credit is keeping you from getting approved, CreditYes can help with our bad credit auto loan program! We can match you with a dealership in your area that will be with you ever step of the way. Our service is fast and free. Fill out our secure online application and get behind the wheel of your next car today!