BACK TO SCHOOL: WATCH OUT FOR BUSES
Posted on: Aug. 11, 2017 in Safety, Driving
Kids around the country are heading back to school or will be shortly. That means that drivers across the country need to be even more aware and alert to avoid accidents and injuries. All motorists should be aware of the laws in their state around sharing the road with school buses. Any who are not familiar should take the time to investigate or risk ticketing and fines.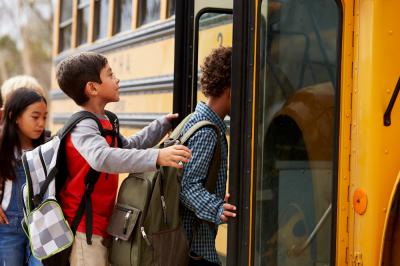 Here's a sampling of things to know:
It is illegal in all states to pass a school bus that is stopped to allow children to get on or off the bus.
Buses are equipped with lights and signs to tell motorists if they are stopped for the loading or unloading of children. Red flashing lights and an extended stop sign arm signal means the bus is stopped to allow children to enter or exit.
If a bus has its red lights flashing and the stop sign arm extended, motorists are required to stop in both directions on undivided roadways.
On divided roadways, the rules about who must stop vary but in all 50 states the traffic behind the bus must stop.
Allow plenty of room around the bus for children to get on or off the bus. Studies show children are most likely to be hit within 10 feet of the bus.
Stay alert. Children may dart off the bus and into traffic or come running from their home to catch the bus before it leaves.
Passing a bus on the right is illegal in all states and also very dangerous.
If you see a school bus, it means children are bound to be present. Slow down, particularly in residential areas to minimize the chances of someone getting hurt. Back to school should be a fun time for children, not a tragic one.

If you're ready for a new car but your credit is keeping you from getting approved, CreditYes can help with our bad credit auto loan program! We can match you with a dealership in your area that will be with you every step of the way. Our service is fast and free. Fill out our secure online application and get behind the wheel of your next car today!