AUTO LOANS FOR THE SELF-EMPLOYED
Posted on: Nov. 08, 2017 in Car Loans

When you're applying for an auto loan, lenders want to know that you can pay back what you borrow. A good credit score will make it easier to secure a loan because financial institutions will view your credit history favorably. If you don't have good credit, you'll need to prove you can afford the loan another way – by verifying your income. This can generally be accomplished by showing a recent pay stub and providing a work history.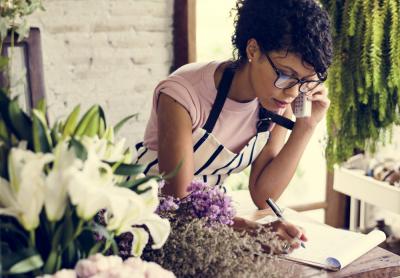 But what do you do when you're self-employed and don't receive a regular paycheck? Can you still qualify for a bad credit auto loan?
Self-Employed Individuals Can Get Loans
Having a full-time job working for someone else isn't a requirement to secure an auto loan. If you're running a business, freelancing, or taking advantage of all the gig economy has to offer, chances are you're pulling in as much money as someone working a nine-to-five in a cubicle. The trouble is it's just a little trickier to prove it.
Before you head to a dealer or otherwise apply for a loan, gather up your tax returns for at least the last two years. These will indicate what your taxable earnings have been. Hopefully you have this information stored in an organized and accessible manner. If you have taxable earnings of at least $1,500 per month, you'll have a better chance of getting approved for a loan. Your odds of approval go up when you earn more than that.
Your Debt-to-Income Ratio Matters
When you're self-employed, another very important factor is your debt-to-income ratio, also known as your DTI. When you add up all your monthly obligations including rent or mortgage, student loans, car loans, and debt payments, this should account for no more than 40% of your income. If it does, a lender may consider you over-extended and decline your application. It's a good idea to review your monthly expenses before applying for a loan to avoid any surprises. If you can, reduce your debt before applying.
What Else Is Needed?
In addition to verifying your income with tax documents and having a good handle on your DTI, you'll want to have a few other documents available when you're ready to apply for an auto loan. Here are a few items to gather:
A utility bill to show proof of residency
A lease agreement or mortgage information
Your driver's license
Personal references (three to six is a good idea)
A phone bill
A recent bank statement
Vehicle information if you're planning to trade-in your current car
Some of this information would be required even if you were employed by someone else, and not all lenders will require you to provide all of these documents. However, preparing everything you can in advance can make the loan process go much more smoothly.
If you're ready for a new car but your credit is keeping you from getting approved, CreditYes can help with our bad credit auto loan program! We can match you with a dealership in your area that will be with you ever step of the way. Our service is fast and free. Fill out our secure online application and get behind the wheel of your next car today!