AN EASY 9 STEP BUDGET PROCESS
Posted on: Oct. 09, 2017 in Money

Budgeting can often seem like a dirty word. It conjures up images of eating ramen every day and having no fun at all. It feels restrictive, like you'll always have to say, "No, I can't. I'm on a budget."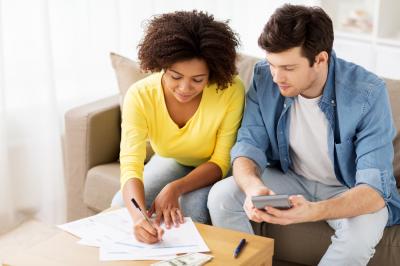 It's time for a new way of thinking. A budget doesn't have to be a bad thing. Instead, it can be a plan for today, tomorrow, and long-term. It can help you have fun right without ruining the future. It can be a path to achievement that helps you get everything you want.
Done right, a budget can lay out a plan for spending that give you stability and control without dragging you down. These nine steps can help.
What do you need? Identifying needs is the first step of any good budget. Needs are things like rent, food, and gas. You're not going to get very far without these, so figure them into your plan first. Then move on to the secondary things like utilities, your phone, and your car payment. They're important, too.
Prioritize. What do you want out of your budget? Whether you're saving for a house, college for the kids, a new car, or a killer vacation with the family, you have to name it in order to save for it. Make it a line item in your budget plan.
Eliminate debt. Crushing your debt means that the one you earn today can be used for tomorrow instead. How do you do it? Pay the minimum due on all bills. Then select the smallest one and put every dollar you can spend toward it. When it's done, move on to the next. Before you know it, you're debt free!
Track your spending. You need to know where your money is going at all times. If you're not ready for a full budget, tracking can identify areas where you can cut back. If you're budgeting but you're not making it, tracking can find the leaks. All those small things like vending machine trips and coffees out add up.
Plan some fun. When you're budgeting, it's tempting to make sure you're only spending on "good" or "important" things. But fun IS good and important. Depriving yourself will only make you resentful and more likely to lose steam, so budget for lunch with a friend or a movie to reward yourself.
Look at what you have now. When looking at upcoming expenses, think about the money you have right now. If you're too busy spending next week's paycheck in your head, it will be harder to focus on today.
Expect the unexpected. Things will go wrong. New expenses will pop up like a car repair or a broken fridge. Stash a little money aside to handle these things you can't see coming.
Be flexible. When you slip up – overspend or forget to plan for something – don't beat yourself up or toss away your whole budget. Shake it off and get back to it. No one is perfect! Just do the best you can and bounce back.
Involve the family. Gather up the family for a once-a-month review. Plan ahead with your partner and involve the children in an age appropriate way. When everyone understands the goals, everyone can work together.
Budgeting doesn't have to be difficult or scary. All it takes is a little time, some honesty, and a commitment to goals.
If you're ready for a new car but your credit is keeping you from getting approved, CreditYes can help with our bad credit auto loan program! We can match you with a dealership in your area that will be with you every step of the way. Our service is fast and free. Fill out our secure online application and get behind the wheel of your next car today!