6 STRATEGIES TO BOOST YOUR INCOME
Posted on: Aug. 14, 2017 in Money, Debt

When you want to get out of debt, save for an emergency fund, or even build up enough cash to buy a new car, there are two things you need to do. You can lower your expenses or you can bring in more cash. Yesterday we shared 20 tips for slashing your budget. Today, let's look at some ways you can up your income.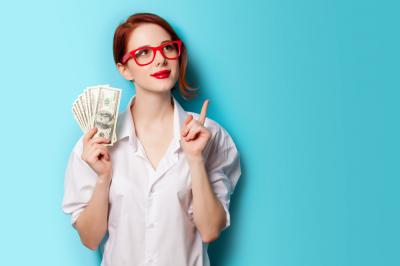 Work. Okay, you're probably already working. If you have the time and ability, work more. Get a part time job. Start a side freelance hustle. Ask your boss for overtime. Babysit. Mow lawns. Anything! You don't have to do it forever, but the extra cash will really help.
Sell. If you're not using it, sell it. If it's not nailed down, sell it. Sell everything you can that you don't need. You can have a yard sale, put out ads on Craigslist, or sell in local Facebook groups. There are also several apps that allow you to sell items as well.
Transfer. If you're paying interest on debt, see if you have available credit with a lower interest rate that will allow you to transfer the balance. Some credit card companies offer as much as 0% for a year with low transfer fees. You're not earning money, per se, but it will make every debt payment go further.
Rent. If you have a room in your house, consider renting it out to a traveler. A service like AirBnb allows you to advertise the room you have available and connect you with people looking for a place to stay.
Drive. Uber and Lyft are two of the most popular apps out there. If your car is up for it, perhaps driving people around is a good side gig for you. You can set your own hours and drive when you want.
Collect. It's not every day that money falls into our laps (it would be nice though!). But when you do find yourself with a bonus, a cash back reward, a rebate, or a winning lottery ticket, put it toward your debt. No matter how small, it's money you didn't have before that you weren't planning on getting. You might as well put it to good use!
Getting out of debt takes time, so get creative and bring in money any way you can. Every penny that goes toward debt puts you that much closer to being free and clear.
If you're ready for a new car but your credit is keeping you from getting approved, CreditYes can help with our bad credit auto loan program! We can match you with a dealership in your area that will be with you every step of the way. Our service is fast and free. Fill out our secure online application and get behind the wheel of your next car today!