5 TIPS FOR CHRISTMAS TREE TRANSPORT
Posted on: Dec. 01, 2016 in Driving, Safety
There are few things as wonderful as the smell of a fresh Christmas tree in the house. Getting that tree from the farm or tree lot can be quite the challenge. Improperly securing the tree can lead to an accident, damage to your vehicle, or damage to another car on the road. Enjoy the season by making sure you transport your tree safely and following these tips.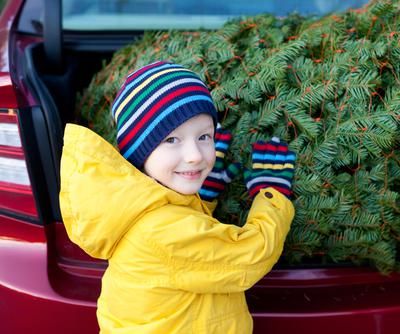 Measure your car. If the tree is too large to fit securely on top, it may be too dangerous to transport home.
Gather supplies. You'll want to have a blanket, tarp or plastic sheeting to protect the top of your car from scratches and nicks. Bring rope, bungee cords or some other tie-down to secure the tree to the top of the car. Don't rely on the tree farm to do this for you – in fact, it's probably best that they don't since an error on their part can lead to an insurance nightmare.
Wrap the tree. If there is netting on the tree, keep it on. Many tree farms will wrap the tree for you if you cut it down yourself. Having the branches bundled and secured will make it easier to carry and to secure to the car.
Position the tree correctly. When you place the wrapped tree on top of your car, be sure to do so with the stump facing toward the front of the vehicle. Be sure to center it as well. This will help cut back on wind resistance and keep the tree more stable. It will also help it not get damaged during transport.
Fasten it securely. This is where the rope or bungee cords come in! If you have a roof rack, secure the tree to that. Start at the tip and work your way to the stump. If you don't have a roof rack, you can still put the tree on top, though it's less secure. Be sure to open the car doors before you secure the tree and do not thread rope through open windows. When you're ready to hit the road, pull on the tree to make sure it won't fall off while you're driving.
It's a fun time of year and plenty of memories can be made while picking out or cutting down a fresh Christmas tree. But if you lose the tree or damage the car, the memories will be less fun!
If you need auto financing but your credit is keeping you from getting approved, CreditYes can help! We can match you with a dealership in your area that will be with you every step of the way. Our service is fast and free. Fill out our secure online application and get behind the wheel of your next car today!