5 FINANCIAL TIPS FOR COLLEGE STUDENTS
Posted on: Jul. 26, 2017 in Money

College is expensive. Once you get past the huge price tag that is tuition, expenses will continue to pop up all over the place. It can get easy to get carried away with spending. Whether it's your first year or last, we've got tips to help keep college students from overspending and getting into financial trouble. (Parents, you may want to forward this one to your kids!)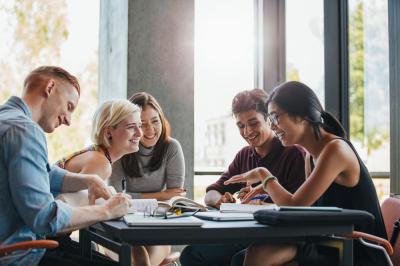 Use credit responsibly. If you have access to a credit card, your own or one your parents authorized you to use, it's important not to bite off more than you can chew. At some point, someone has to pay for what you charged. Using a credit card for emergencies or necessary purposes, but spending more than you can pay off for fun outings and shopping sprees is a dangerous habit to get into.
Use your debit card responsibly, too. Debit cards differ from credit cards in that they are linked to a bank account. Spend too much and the next thing you know, you are flat broke. It's important to track your spending to make sure your balance doesn't get too low. Many banks allow you to set up low balance alerts that will send notifications to your phone. These are a good idea.
You don't need brand new books. Most of the time, used books will do and you'll get significant savings. You can also check with a friend who has already taken the class, ask at the campus library if they have one you can borrow, or look online for textbook rental sites.
Try to use your meal plan as often as possible. It may be more fun to go out with the gang or order in some Chinese, but doing this too often will blow your budget. Keep an eye on your spending for things like coffee and other treats as well.
Keep looking for money. Scholarship and financial aid applications aren't just for high school seniors. Be on the lookout for opportunities to take the edge off next semester's tuition or fund your book purchases. Check in with your school's financial aid office or, if you had a great rapport, stop in to your old guidance counselor to see if they have any suggestions.
For many, college is a rite of passage and a way to secure that dream job. College students need to do everything they can to minimize the amount of debt they graduate with, though, to help ensure that bright future.
If you're ready for a new car but your credit is keeping you from getting approved, CreditYes can help with our bad credit auto loan program! We can match you with a dealership in your area that will be with you every step of the way. Our service is fast and free. Fill out our secure online application and get behind the wheel of your next car today!