5 EASY WAYS TO SAVE
Posted on: Dec. 28, 2016 in Credit, Debt, Money

Money. It's a hot topic year-round, but it can be especially top of mind at the beginning of the new year. Many people will be setting goals to save up for a big purchase or to get out of debt. Regardless of the reason, saving money can be tough when you're used to spending a certain way. Here are a few ways to set aside a few dollars here and there. They'll add up helping to get you where you want to go.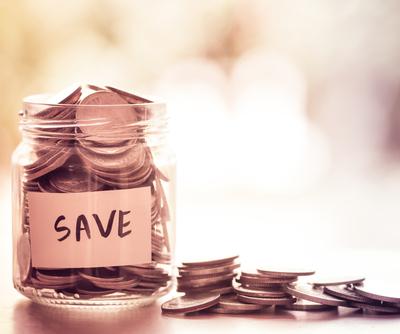 Open a savings account. If you don't already have one, open a savings account so you have a place to put the money you're saving. Or, consider opening a separate one if you're trying to save up for a special purchase. There are many banks, both online and "brick and mortar" banks that will offer you nice perks for opening accounts. Find one that gives you a great interest rate or even cash for depositing your paycheck automatically.
Divert some of your pay. Speaking of direct deposit, see if your employer will let you split up your paycheck so that you can direct a portion straight to savings. Even something as small as $10 per paycheck can add up over time if it's out of sight and out of mind. Send it to a separate account and then leave it there to grow until you're ready for it.
Cut back on a non-essential. Sure, it's fun to treat yourself every now and then with something special. Maybe it's a latte a day or happy hour after work. Weekly mani-pedis. Pizza Fridays. No matter what that little thing is, it's stopping you from saving. Find a way to cut something from your weekly spending and stick transfer that amount into your savings account instead.
Brown bag it. It doesn't have to be elaborate, but pack a lunch every day for work. If you're spending even $5 a day buying your lunch, that's $25 every week. Do that every week for a year and you'll spend $1,300 on lunch alone. Even bringing your lunch half the week can mean big savings over time.
Save on socializing. Instead of meeting friends for dinner or drinks, host instead! Have a game night at your place and ask everyone to bring a drink or snack. If you find ways to spend time with people you enjoy without spending money (or spending very little), you won't feel like you're depriving yourself!
These are just a few ideas – but the ways to save are almost endless! Every time you don't spend and put the money aside instead, you'll be a few dollars closer to your goal.
If you need auto financing but your credit is keeping you from getting approved, CreditYes can help! We can match you with a dealership in your area that will be with you every step of the way. Our service is fast and free. Fill out our secure online application and get behind the wheel of your next car today!