10 ESSENTIAL ITEMS FOR YOUR CAR'S EMERGENCY KIT
Posted on: Jul. 13, 2017 in Safety

Emergencies can happen any time, any place. It doesn't matter if you're going across the country or around the corner – you should have an emergency kit in your car. Don't be tricked into thinking you're all set just because you have a roadside assistance plan. You never know when you're going to be stranded or waiting for service for hours. It's better to be prepared than wish you were.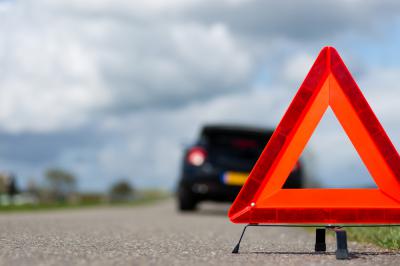 Exactly what you need will depend on where you live, how far you're planning travel, who's riding with you, and other personal factors. However, there are some things that are useful for everyone. You don't need to pack enough stuff to rough it for days, but these items will help you get through until help arrives.
Here are some things everyone should keep in the car.
First aid kit. You can buy a prepackaged one or stock your own, but your kit should include basics like bandages, pain reliever, antiseptic wipes, cream, or ointment, gauze and tape, and any other time your family might need.
Reflective triangles. You should aim to have three triangles to place 50 feet apart to warn oncoming traffic that your vehicle is disabled.
Jumper cables. If your car won't start and there's another car around to give you a jump, you'll be glad you have them.
Fire extinguisher. Opt for one that is rated suitable for fires arising from flammable or combustible liquids (gasoline, diesel fuel, kerosene) as well as electrical items (switches, panel boxes, batteries).
Flashlight. A bright, waterproof flashlight and extra batteries is a must-have, not only to help you see, but to help you be seen.
Spare tire and tire sealant. Always be sure your spare tire or donut is in good working order before hitting the road. However, if you're not in a position to change a tire, you may choose to use a foam tire sealant to fix a flat and get you back on the road fast.
Water. Always travel with clean, drinkable water, especially if you'll be traveling through an area with excessive heat and/or dryness.
Snacks. Pack some non-perishable items like protein bars or trail mix. Be sure to rotate out these items periodically.
Gloves and rags. Keeping your hands clean and protected is always a smart idea.
Duct tape and a utility knife. With these two items, you can fix just about anything!
If you tend to travel through areas prone to snow or ice, you should also carry a warm blanket, cat litter (to aid in traction), an ice scraper, and a small shovel.
Although you probably always carry your cell phone with you anyway, be sure it's charged and pack a spare charger cord as well as a back-up portable battery. A phone will do you no good if it's out of power.
You can certainly buy a prepackaged emergency kit with these items and more. But, you may find that putting one together yourself is far more cost effective.
If you're ready for a new car but your credit is keeping you from getting approved, CreditYes can help with our bad credit auto loan program! We can match you with a dealership in your area that will be with you every step of the way. Our service is fast and free. Fill out our secure online application and get behind the wheel of your next car today!